Algonquin provincial park is a promised land for canoeing, kayaking, and hiking. It is situated in Ontario, Canada, and established as a Provincial park in 1893, was named after the Indigenous people who inhabited the Algonquin region. This provincial logged Park is one of the oldest among Ontario's 340 provincial parks covering 7,635 square kilometers of forests, bogs, lakes, and rivers. It is the oldest biologically diverse Provincial Park in Ontario, with more than 1,000 vascular plant species and more than 200 vertebrates that breed within its boundaries. Its beauty is beyond the explanation in the fall season.
Why Algonquin provincial park is very popular with tourists?
Algonquin provincial park is an excellent paradise for nature lovers with its rugged beauty, including gorgeous lakes, maple hills, ridges, beautiful island camping sites, pine trees, and abundant wildlife. This is very popular among visitors for hiking and canoeing. Nature enthusiasts visit this Park for its scenery especially in the fall season, rivers, and unspoiled wilderness teeming with wildlife, bird watching, skiing, ice skating, camping, white water canoeing, kayaking.
Algonquin provincial park map
Journey to Algonquin provincial park from Toronto
Total distance – 243 km
The best way to reach Algonquin is by driving. However, depending on coffee breaks and traffic, it takes around 3-4 hours to get there by car.
The other way to reach Algonquin provincial park is by bus. You can get to the park easily from Toronto by bus. The total bus journey takes around 5-hours and costs $55 – $100.
You can take a bus from Toronto – 34 Asquith Ave.
How to Get Your Algonquin Park Day Use Permit
It's very easy to buy a day permit. You can do it online or call at 1-888-668-7275 between 7:00 am and 9:00 pm. You can buy it up to 5 days in advance. Daily Vehicle Permits are non-refundable and subject to Ontario park's capacity limits.
Seasonal day-use permits include annual, summer, and winter versions.
Daily Vehicle Permit along Highway 60

$21.00 /vehicle/day

All other locations

$18.00 /vehicle/day
Canadian Armed Forces and Veterans (residing in Ontario, weekdays only)
Free
Bus Permit
$125.00 /bus/day
Ontario School Group Bus Permit
source
If you are only driving on Highway 60, you do not need a permit until you stop to use any park facility.
Highway corridor 60 is safe to drive throughout the winter. To know the exact condition of the road, you can check over these live cameras and Algonquin park live cam.
Throughout the winter, road crews have been spreading salt on the road to keep Highway 60 ice-free and safe to drive.
You can also keep an eye out for the Algonquin park weather conditions before your visit.
ALGONQUIN PARK WEATHER
Is Algonquin park open year-round?
Algonquin Provincial Park is open year-round. However, facility operation dates and hours vary ( November to late March/April ). Few facilities and trails, campgrounds are not available for the winter season.
Algonquin Park Trails for hiking
Algonquin has both types of hiking routes, including day-use and backcountry trails.
Day use Trails of Algonquin Park
The best way to reach trails is through the Highway 60 parkway corridor. Highway 60 corridor passes through the southern side of Algonquin Park. You can enter from both east and west gates and get access to the entry points of famous trails.
There are 16 trails on the Highway 60 Parkway Corridor for day use
Centennial Ridges Trail – This is a moderate 10.4 km loop with amazing and spectacular views above two high ridges. While walking, the path along Whitefish Lake and Rutter lake is gorgeous. To complete the whole loop, it takes around 4-6 hours.
Track and Tower – The Track and Tower trail is a beautiful and moderate 7.5 km loop with a spectacular lookout over Cache Lake. You can easily access it through the Highway 60 corridor that passes through the southern side of Algonquin Park. It is an easy to moderate hike and takes about 2-3 hours.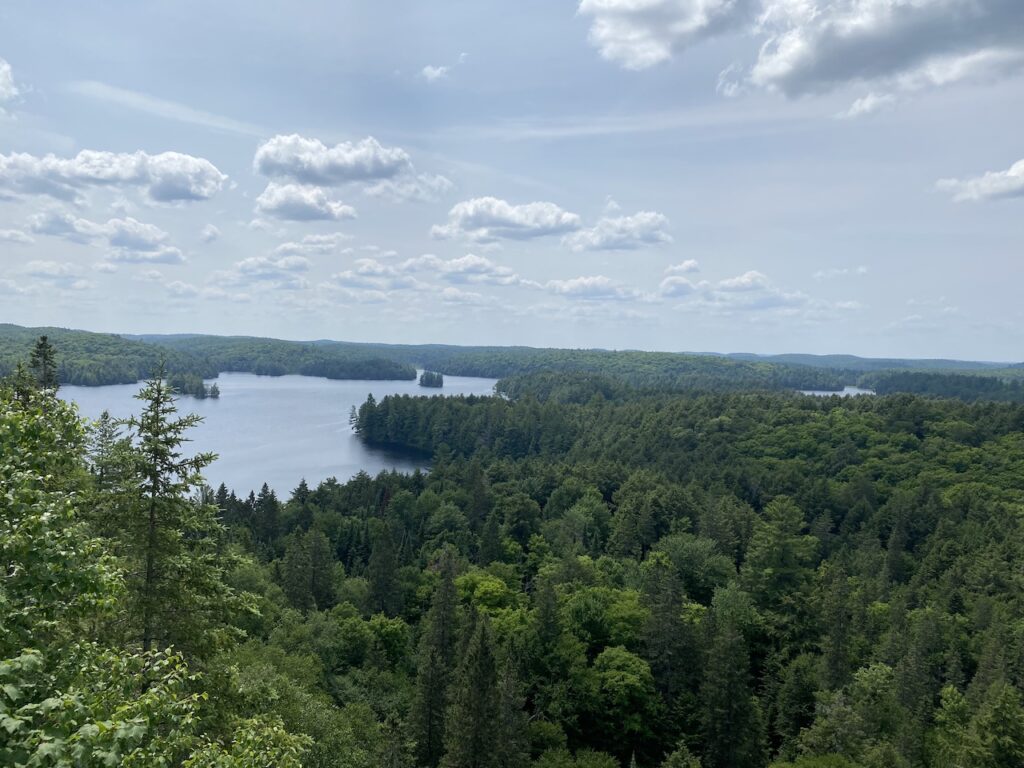 Beaver Pond Trail – This trail is a 1.9 kilometer moderate loop with a few inclined hills with plenty of rocks and roots.
The Lookout Trail – Lookout Trail is a 2.1 kilometer busy loop, including easy hiking. This is hardly a 20-30 minutes easy uphill walk with a gorgeous view at the lookout point.
Hardwood Lookout – This is a 1 km easy loop of a beautiful view of Smoke Lake and the surrounding hills.
Algonquin Logging Museum Trail – It is an easy 1.3 km walk. You can know the logging history and see a recreated camboose camp and a fascinating steam-powered amphibious tug called an "alligator". This location is located at km 54.5 of Highway 60.
Whiskey Rapids Trail – This is a 2.1 km very easy-to-walk loop along with amazing views of the oxtongue river and whiskey rapids. The trailhead is 7.2 km from the west gate.
Peck lake Trail – Peck Lake Trail is a 2.3 km loop with beautiful path around the shoreline of Peck Lake. This location is situated at km 19.2 at Highway 60.
Hemlock Bluff Trail – This Trail is a 3.5 km loop over highway 60 corridor with an amazing view of Jack Lake. This is a hilly but very easy-to-hike trail do without any kind of strenuous inclination.
Mizzy Lake Trail – It is an l0.8 km loop trail, with a wet path majority of the time. During the hike, there is a variety of natural scenery to enjoy including the number of smaller ponds and lakes. There are chances to see moose and other wildlife over this trail. It is a moderate trail and the total distance can be covered in 6-7 hours. Pets are not allowed.
Big Pines Trail – It is an easy 2.9 km walk along with big pines trees. The probability to see wildlife is pretty fair here. It is recommended for those who are interested in Algonquin's logging history.
Spruce Bog Boardwalk – This trail is a 1.5 km loop. Along the hike, one can enjoy two spruce bogs and a few sections of the boardwalk. It hardly takes 45 minutes to complete the Trail. From the west gate, the trailhead is 42.5 km over Highway 60.
Bat lake – Bat trail is a 5.7 km loop. Bat trail is a moderate one with few good inclines and descents. The trail slowly climbs from the trailhead past a river before reaching a beautiful lookout. The trail then slowly descends and crosses a bog before reaching Bat Lake. The lake has two small docks from which you can take in the view. The trail is located at kilometer 30 on Highway 60.
Two Rivers Trail – This trail is a moderate 2.3 km loop hike. The lookout point is stunning over top of a cliff with mesmerizing views of the North Madawaska river. The trailhead for the two rivers is 31 km from the west gate.
Booth's Rock Trail – It is spectacular 5.1 km loop but is majority of time muddy. You can view the gorgeous secenry around 2 lakes. On the way back, there is an an abandoned railway track.
Fire Tower Trail – This is the shortest trail in Algonquin, Only a 200 meters ( 660 feet ) loop. It goes to a viewpoint overlooking the Sunday Creek valley where there is a replica of a cupola ( a wooden lookout structure ) that was at the top of steel fire towers in Algonquin Park.
It is located at the Algonquin visitor center km 43 of highway 60.
Other day use Algonquin park trails
Except for these trails, there are other adventures trails in far northern and remote parts of Algonquin Park, which are easy to access if you are staying at Achray campground.
Brent Crater Day Trail – It is an easy and very beautiful 2.0 km loop with scenic views and exploration of the Brent meteorite crater, one of the world's most famous fossil meteorite craters situated near the Cedar lake.
Barron Canyon Trail – This trail is a 1.5-kilometer loop. It is a lesser-visited attraction because it's in a more remote part of the Park. It is not accessible through Highway 60. It's located on the east side of the Park near Achray campground, about an hour from Pembroke, on Barron Canyon Road.
Berm Lake Trail – This trail is a 4.5 km loop. You can walk along the lake with the pine and oak forest. The trail ends at the beautiful Achrey campground.
Jack Pine Trail – This trail is 1.6 km away, starts from the Achray campground, and leads to a stunning lookout point over Grand lake. Famous artist Tom Thomson's famous work, The Jack Pine, was inspired by the landscape of Algonquin at Achray on Grand Lake.
Backpacking trails of Algonquin park
Eastern pines backpacking Trail
Highland Backpacking Trail
Western Uplands Backpacking Trail
Eastern Pines Backpacking Trail
Eastern Pines is an overnight backpacking trail with 6 – 15 kilometer long loops. Hikers can access this trail from Grand lake – Achrey access point 22
Highland Backpacking Trail
Highland Backpacking Trail is an overnight backpacking trail with 19 and 35 km long loops. This trail is easily accessible near the Mew Lake Campground.
Western Uplands Backpacking Trail
Western Uplands Trail is an overnight backpacking trail with loops of 32 – 88 kilometers in length. This trail is easily accessible near Oxtongue River Picnic Ground or the Rain lake access point or km 3.0 of highway 60.
Canoeing in Algonquin park.
Canoeing trails and trips
Algonquin Park is a famous canoeing destination. Algonquin Park is home to 7,630 square kilometers of canoe tripping opportunities with 2,000 kilometers of canoe routes and portages. Most visitors head into the Park's vast backcountry for overnight canoe camping. People opt to enjoy the canoe trailing mostly by –
Backwater Canoeing
Whitewater Canoeing
As headwaters of six major rivers flow to the Georgian Bay and St. Lawrence River (via the Ottawa River or Lake Ontario) originating in the Algonquin Park, This is a popular spot for whitewater canoeing
The most popular Whitewater rivers in Algonquin Park are:
Petawawa river
Madawaska river
Oxtongue river
Opeongo river
Magnetwan river
Amable du fond river
Camping in Algonquin provincial park
Algonquin Park is big, so it's not possible and not fair to explore it on a day trip. Camping is one of the famous activities in Algonquin. Park provides various types of staying facilities. You can reach these facilities in your vehicle, on foot, canoe, etc.
You can book any type of camping site through the Ontario Parks Reservation website. They offer –
Developed campgrounds

Yurts

and a few ranger cabins

Car and RV camping

Lodges

Backcountry camping
Developed campsites provide various kinds of features and amenities including washing stations, electrical sites, nonelectrical sites, picnic benches, views of the small lakes, fire pits, etc. Some sites are more suited for families with children, e.g., Mew lake campground, and some sites are good for those who want some solitude e.g., Achray campground.
Developed campgrounds
Achray campground / Sand lake gate
Mew lake campground
Brent campground
Kiosk campground
Canisbay campground
Lake of two rivers campground
Pog lake and Kearney lake campground
Rock lake and Raccoon lake campground
Tea lake campground
Algonquin is a huge forest land with thousands of Lakes and Streams, Hills, and Ridges. It has more than 2000 kilometers of canoe trails and around 1900 campsites, including little islands to explore the inner beauty of the Park. Backcountry camping and canoeing is the best way to enjoy Algonquin's vastness.
Backcountry Campsites
Burntroot Lake Backcountry Campsites
Rosebary Lake Backcountry Campsites
Joe Lake Backcountry Campsites
Parkside Bay Backcountry Campsites
Rock Lake Backcountry Campsites
Lake Opeongo North Arm Backcountry Campsites
North Tea Lake Backcountry Campsites
Provoking Lake Backcountry Campsites
Lake Louisa Backcountry Campsites
Harness Lake Backcountry Campsites
Shirley Lake Backcountry Campsites
Maggie Lake Backcountry Campsites
High Falls Backcountry Campsites
Backcountry canoe and hiking campsite reservations are for a particular lake area or river section, not a specific campsite. To book the camp, you need to provide an access point among these.
Kawawaymog (Round) Lake
Tim River
Magnetawan Lake
Rain Lake (Watercraft)
Canoe Lake
Smoke Lake
Source Lake
Cache Lake
Rock Lake
Sunday Creek
Lake Opeongo
Pinetree Lake
Galeairy Lake
Whitney
Hollow River
Dividing Lake
Kingscote Lake
Hay Lake
Shall Lake
Aylen Lake
Basin Lake
Mallard (Sec) Lake
McManus Lake
Grand Lake – Achray
Lake Travers
Big Bisset Lake
Wendigo Lake
North River
Cedar Lake
BrentBrain Lake
Kioshkokwi Lake Kiosk
Canisbay Canoe
You can go to this link to reserve your site.
Wildlife at Algonquin park
There are almost more than 50 species of mammals found in the Algonquin, including Moose, White-tailed Deer, Beaver, Black Bear, and Wolves, and so more. It is mainly famous for the Moose and Bear population.
Bears in algonquin park
Algonquin is called Bear country as this place is home to Black Bears. There are approximately over 2,000 bears in Algonquin, which is about one for every three to four square kilometers. They hibernate in winter and awake in Spring and are pretty slow in the first few weeks. Bear's population is found in all the significant five habitats of Algonquin, including deciduous forests, coniferous forests, spruce bogs, beaver ponds, and lakes and rivers.
Moose in Algonquin park
Algonquin is the best place to see Moose in Ontario. The best time to see them is in April – may near Highway corridor 60. The Moose come to the highway to eat the sprinkled salt after the snow has melted. The other way to watch Moose and do some moose photography is through the canoe routes. During the long winter months, the diet of the Moose is salt deficient, So by spring, they're thirsting for salt.
Wolves in Algonquin
Eastern wolves are very common and can be seen around the whole year.
Lynx in Algonquin Park
There are no Lynx in Algonquin. However, only 2-3 times has a Lynx been spotted in the park in the last 100 years.
Snakes in Algonquin Park
There are nine species of snakes in the park; all are non-venomous. Common Gatersnake, Northern Watersnake, Dekay's Brown Snake, Smooth Greensnake, Eastern Ribbon snake, Milksnake, Red-bellied snake, Eastern Hog-nosed snake, and the Ring-necked snake*
Bird watching in Algonquin is also a great thing to enjoy. There are approximately 280 bird species in Algonquin provincial park.
Do you need Bear spray in Algonquin park
There are few chances of bear encounters in Algonquin Park. Basically, bears are very intelligent animals. They are shy but sometimes in search of food, they start coming near tents and near humans, but it's very rare. It's good to keep the Bear spray in your reach in case of emergency. But you should know how and when to use bear spray properly.
However, It is considered safe to hike alone in Algonquin provincial park.
Do plan your next trip to this nature's wonderland and enjoy the gorgeous views and fresh air of Algonquin Park. Let us know how it went and happy trailing.
You may also like